May 29, 2020
Green Lipped Mussel Story - making a joint health supplement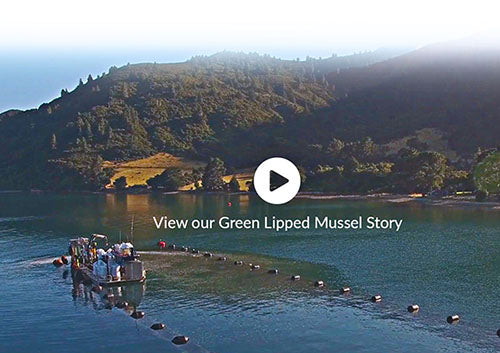 Found only in the pristine waters of the New Zealand coastline, Green Lipped Mussel (GLM) first caught the attention of researchers when they observed that osteoarthritis and rheumatoid arthritis were virtually non-existent among the indigenous coastal Maori population. Not only were Maori elders free of the degenerative joint diseases common amongst Western Cultures, they could still perform even the most rigorous of physical tasks – right into old age. Modern science has now proven the efficacy of Green Lipped Mussel in relieving arthritic pain.

The mussels for our Green Lipped Mussel products in our  are sustainably sourced from marine farms in the pristine Marlborough Sounds and all our supplements are batch tested and verified to ensure the highest standards of quality. We use a range of extraction processes to produce the raw ingredients for our products.

Each extraction process is designed to preserve nutrient content, ensuring that our products contain the highest levels of Omega 3 Fatty Acids, Glycosaminoglycans and Chondroitin.

Freeze Drying/ Lipholization
After harvesting, the mussels are removed from their shells and powdered in a purpose-built extraction plant. We freeze dry the mussel meat at a controlled temperature to maintain the integrity of the bioactive compounds and ensure the stability of the nutrient content.

Snap Drying
In a drying operation, liquid, slurry, or puree material is applied as a thin layer onto the outer surface of revolving drums that are internally heated by steam. After about three-quarters of a revolution from the point of feeding, the product is dried and removed with a static scraper. The dried product is then ground into flakes or powder. Drum drying is one of the most energy efficient drying methods.Snap drying (drum drying) is faster than freeze drying and also locks in more nutrients. Importantly, it minimises the key risk factors that can impact the quality of GLM powder, including enzymatic degradation and exposure to excess heat and air.After extraction, we enhance both our snap-dried and freeze-dried products with additional refined powder and natural enzymes. We produce all our GLM powders according to the licensed and trade marked Glyco Omega™ approach. To accommodate our customers' differing needs, we offer our GLM as both hard-shell and soft-shell products in varying concentrations.

Flash Drying/ Spray Drying
Flash dry processing, uses fresh uncooked mussel meat mixed in a liquid suspension. The process begins by spraying particles of the mussel meat into a current of hot air, creating a mist of fine droplets. The moisture in the droplet particles is evaporated in nano seconds to create a nutrient rich mussel powder.
You can try Deep Blue Health Green Lipped Mussel supplement here.