October 03, 2023
Pro SunWhite: skin whitening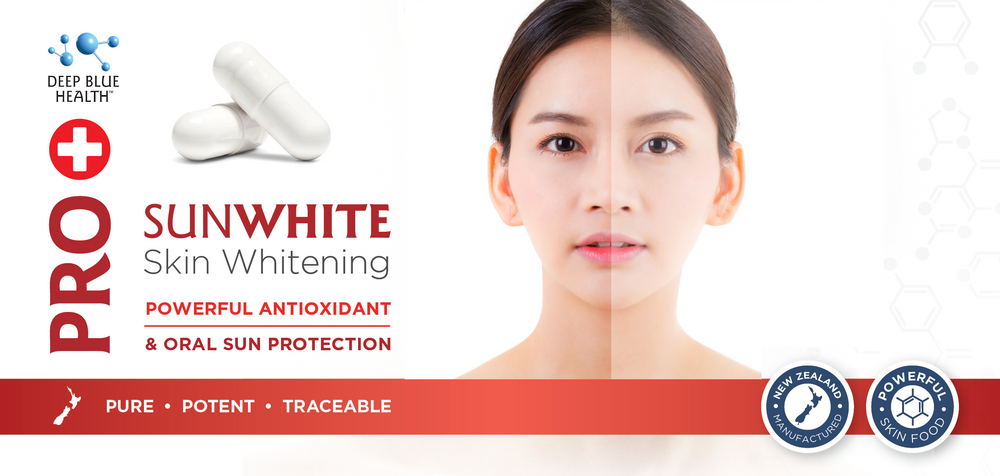 PRO SUNWHITE: The Natural Defense Your Skin Needs
When it comes to beauty and skincare, most of us desire a smooth, clear, and blemish-free skin. However, achieving this can be a daunting task given the numerous internal and external factors that threaten our skin health. The harmful effects of UV rays and toxins result in free radical damage, leading to pigment changes and premature aging.
But what if there was a way to protect our skin from within?
Introducing Deep Blue Health's Pro Sunwhite
Deep Blue Health's Pro Sunwhite is designed to be that protective shield for your skin. With the power of natural ingredients, it not only protects your skin from the damaging effect of the sun's ultraviolet radiation but also offers cellular protection and helps prevent the signs of free radical damage, including sun/age spots, premature wrinkles and lines and changes to pigment and skin tone.
Why Pro SunWhite is a Game-Changer:
Cellular Protection: It protects against the sun's UV radiation from the inside out.
Skin appearance: Helps with skin whitening and lightening
Antioxidant Powerhouse: It combats free radical damage, preventing skin aging and pigment changes.
Natural and Daily: It's a 100% natural daily regime suitable for both men and women.
Key Ingredients and Their Benefits
L-Glutathione: Known as the "master antioxidant", L-Glutathione has skin-lightening properties and also boosts immunity and liver health.
Calaguala Root: Beneficial in treating various skin conditions and offers protection against sun damage.
Betacarotene: Enhances the skin's defence against UV radiation and promotes overall skin health.
Green Tea Extract: Packed with antioxidants, it's known to prevent sun-induced skin disorders.
Pomegranate Seed Extract: Offers protection from UVB-induced skin damage.
Deep Blue Health PRO SunWhite offers an innovative approach to skincare, targeting issues from the inside out. It's not just a supplement; it's your daily dose of skin health.