January 20, 2020
Natural anti-inflammatory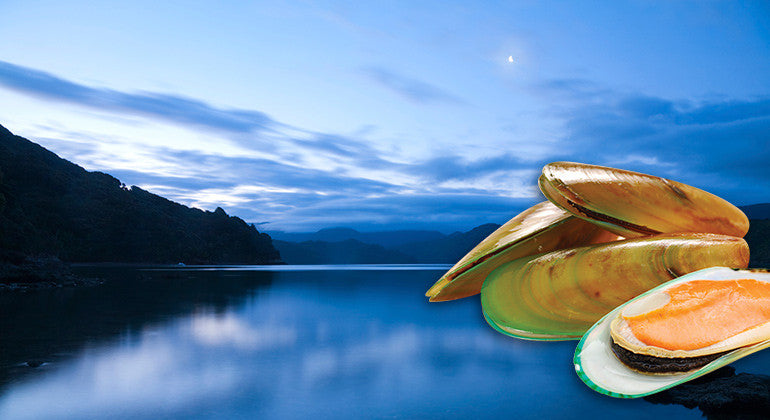 GlycOmega Plus – Green Lipped Mussel extract with Clinical credentials!
Sounds too good to be true? Well, read on…..
Green Lipped Mussel (GLM) supplements have been marketed for the treatment of arthritic symptoms since the early 1970's. Praised for its anti-inflammatory effect, studies have shown that GLM extract varies in potency depending on the stability of the preparation.
What does that mean? Well, it means that the best supplements are made from fresh mussels that have not been allowed to sit around too long before being processed. Just like any raw food – the fresher the better.
Osteoarthritis (OA) is one of the most common forms of arthritis. It is associated with increasing age, diet, trauma or overuse of joints and other inherited factors. GlycOmegaTM-PLUS is a clinically proven oral supplement for the relief of joint pain management in arthritis sufferers (see below). It is made using selected cold-opened, fresh Green Lipped Mussels (GLM), combined with Rosemary oil, a botanical antioxidant. This high quality health supplement is the outcome of a new generation marine extraction process.
For generations native coastal Maori tribes have harvested and consumed raw New Zealand Green Lipped Mussels as a primary part of their diet. Also known as Perna canaliculus, this shellfish provides an excellent source of protein, vitamins, minerals and extremely valuable Omega-3 fatty acids. Now science can explain the natural health benefits they were gaining. The Green Lipped Mussel contains high levels of glucosamine sulphate and chondroitin sulphate and a profile of Omega-3 essential fatty acids which are unique to its species. Glucosamine is a form of amino sugar that is believed to play a role in cartilage formation and repair. While chondroitin sulphate is part of a large protein molecule (proteoglycan) that gives cartilage its elasticity. Omega-3 fatty acids are well known as anti-inflammatory oils that literally grease the joints from the inside.
With several years of scientific research our supplier, Aroma NZ Ltd, have formulated
GIycOmegaTM-PLUS
a proprietary blend of cold opened Green Lipped Mussel meat (Perna canaliculus) and a botanical anti-oxidant which together provide significant levels of anti-inflammatory activity.
GlycOmegaTM-PLUS
guarantees a stabilised health supplement with bioactive compounds. Naturally, with concerns rising about the proven risk of heart disease from some prescription medications, many people are looking for a safer alternative to deal with joint pain.
A trial was undertaken by the Medical School at University of Queensland to establish the benefits of the
GlycOmegaTM-PLUS
product. Ben Winters, Director of Aroma NZ, supplier of our raw ingredient, said

"We always knew green shell mussel powder gave great results to people and animals who suffered from joint pain and inflammation.
People had been asking us to carry out clinical studies on our product so we went ahead with a significant clinical trial," he said.
The excellent trial results released to us show a 43 percent improvement over eight weeks on arthritis sufferers who took part in the trial. The study proved overwhelming reduction in joint pain and increased joint mobility in patients. 

This was the result we were looking for and confirms that our green shell mussel product definitely contains significant anti-inflammatory properties.
Joint pain is so widespread throughout society and not just the elderly whom suffer from arthritis but also young people, sports people from injuries and many others."

Benefits of Christchurch Mussel Health Product Study, June 2011.
The clinical trial investigated the therapeutic effectiveness of this supplement to improve joint pain and mobility in people with Osteoarthritis of the knee. Twenty-one participants with chronic pain and poor mobility of the knee took part in the trial. They consumed 3000mg per day of GlycOmegaTM-PLUS for eight weeks.
The researchers concluded that GlycOmegaTM-PLUS is an effective treatment for arthritis in almost two thirds (59%) of the patients who participated in the trial.
Clinically researched and scientifically formulated, GlycOmegaTM-PLUS products are the natural choice for joint health and recovery.